SOME OF OUR FAVORITE PLACES TO ADVERTISE
FROM CONTENT CREATION AND AD PLACEMENT TO CONVERSIONS
Here is an example of what we can do for your brand. To advertise a new Remote Client Preview service, we first created a motion graphic animation depicting the service benefits. This media was simplified so users could quickly understand the intention in as few as 2 seconds. Following media creation, we got to work on ad placement and language. To create a sense of urgency and properly frame added advantages of the services, we linked this new offering with current events. This presented the challenges that business owners are facing while presenting a solution, ultimately leading to an increase in engagement. For conversion purposes and once social proof was established, we aimed this ad at e-commerce business owners/managers in the U.S. — the demographic most in need of this service, and therefore, more likely to follow through on the next step: clicking through to a dedicated landing page where more information is presented and placed alongside intake forms for highly-targeted lead generation.
The power of advertising lies in the media first and the message second. You need to appeal to the senses to earn the viewer's attention, then you have an opportunity to drive the message home.
With media in tow, we can now curate an urgent message, situating our offerings in the here and now to move consumers to the next phase of the funnel.
AND LANDING PAGE CONVERSIONS
Once consumers reach your landing page, we have the opportunity to convert interest into action. And even if we don't close the deal today, we have can tomorrow.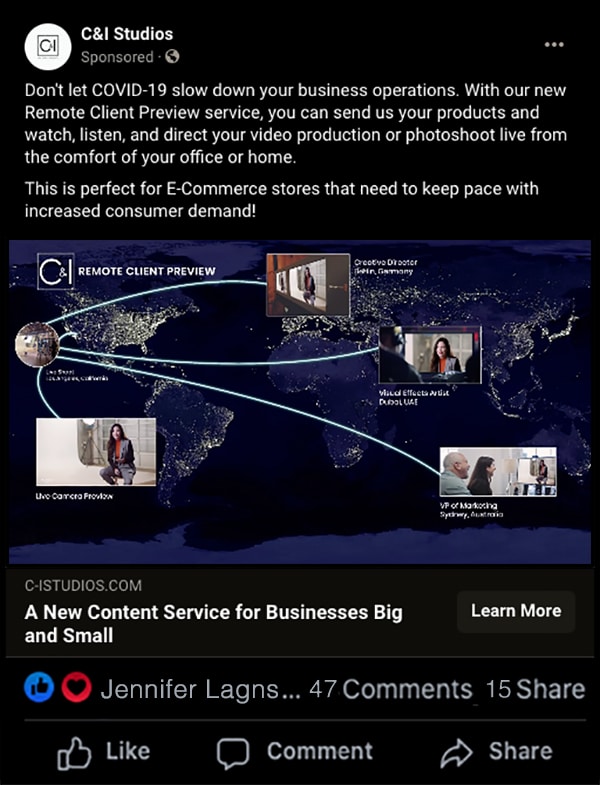 THEN WE TRACK RESULTS AND REFINE, REFINE, REFINE TO BUILD TRUST, ENGAGEMENT, AND EXCITEMENT
Interpreting your data is super important. We repeated, "INTERPRETING YOUR DATA IS SUPER IMPORTANT!" This is how we make your ads more effective. As we stated earlier, advertising is a numbers game. And there are powerful ways in which we can spin the numbers to your advantage. Accurate reporting combined with actionable reporting are two of the most essential ingredients to successful advertising. As your ad campaigns evolve it's important to keep a detailed list of your conversion events. Not only will we use the data we gather from conversions to improve your audience targeting, but it also enables us to see which steps consumers converted or opted out of your marketing funnel. Understanding these details enables us to optimize your ad content so you see more profits coming in with each dollar you invest. Here's a look at some of the data we will gather from Facebook Ad Manager and Google Analytics, which communicate with each other through Facebook Pixel and allow us to make more informed decisions for your business.
Much of the advertising process cited above are concerned with Facebook's business manager. However, we are also adept at Youtube Ad placement, and highly recommend using this platform in your overall ad strategy given the added benefits of acquiring increased engagements and watch hours. The most obvious long-term benefit of advertising on Youtube is that once you acquire a certain amount of subscribers or watch hours — both of which are objectives we will target — you can monetize your Youtube Channel to add a steady stream of new revenue to your business. Here are two ads we created for our clients Ghostbed and Komuso. Both ads were designed to increase product sales and generate massive amounts of traffic to a designated source, in this instance a sales landing page and Youtube Channel.
This is a great example of using storytelling in advertising. When we were working with the band K I D S, we created this miniseries to promote their new album Rich Coast. Each video is a chapter in a larger story that thematically summarizes the plot of their album. We circulated these weeks prior to the album's release to tease the debut. Thousands of viewers tuned in every week. They became invested in the story. And because of this, they purchased the album once it hit the market, which ultimately increased sales tenfold.
As we stated above, one of the steps in our Advertising workflow is creating original content to deliver on your business goals. Here's an example of what we can produce in a single media day. All of these media assets were distributed to different audience groups to drive traffic to our e-commerce store. We used a collection of videos and photos to ensure our ads stayed engaging despite how frequently a single consumer interacted with them.
MOST FREQUENTLY PAIRED WITH ADVERTISING