Why Film in Florida?
When you're talking video production, Florida is the state that has it all – an amazing diversity of locations, cooperative weather and shooting conditions, a vast pool of talent, and special light and vibe that's found only in the Sunshine State. 
Florida can be the perfect backdrop for your video, or it can be the star of your show. 
With all of its richness and diversity, it also brings special conditions and requirements you'll need to address in order to get the most out of your video production. 
Here are some tips to make the most of one of the country's premier video locations:
Location, location, location.
If your production, whether a product promo, loft-style video, commercial, philanthropic, green screen interview, or music video is best communicated in the controlled environment of a studio, no worries. 
Florida boasts myriad production facilities featuring state-of-the-art equipment and big-city league support teams. Check out the C&I Production Studio, South Florida's premier studio, which is also available as a studio rental where you can create your own magic.
If you're ready to take advantage of the diversity, natural beauty, and culture of Florida, here are a few tips that will help make your video production seamless and smooth. 
More than beaches – Choosing a location
The scenery ranges from inspiring east coast sunrises to spectacular west coast sunsets, tangled and mysterious mangroves, secluded everglades, and rolling hills, and fragrant orange groves. 
Historic St. Augustine, sophisticated and urban and international Miami, tony Palm Beach, the heat of Little Havana or artsy and bohemian Key West each offer a special community backdrop for your production. You'll also have access to many events,  both international (think Art Basel) and local such as Calle Ocho, a celebration of all things Cuban.
Looking for that perfect mansion, or yacht for your video to inhabit? Easy. 
You'll find ample opportunities for B-roll ranging from the Miami Zoo to 17th Street Causeway Bridge to a Little Havana street scene. 
An experienced Florida video production company will help you harness just the right location or prop to illustrate your story and move your audience. 
Florida talent pool – Casting your production
Florida is blessed with many casting agencies and a large, diverse pool of on-camera talent. Your agency will have connections to find just the right actors to be the face of your product, service, or cause.
Do your pre-production homework
Pre-production is where the client's goals, the creative team, and the production team all collaborate to pull together the concept, script, and location that will bring your story to life. Selecting the right location is essential and is part of the creative process. Florida has special considerations like weather, tourists, traffic, and permitting that can impact the budget, timing, and tone of your production. Take the time now to get it right and make sure the location is the perfect match for our goals and brand. 
If possible, visit the location at the time of day you intend to shoot, to make sure there are no surprises such as unexpected noise, traffic congestion, or other hazards. Observe the lighting and vibe.
Working with Florida Climate and Seasonality
Yes.
There are seasonal changes in Florida. The right video production company will plan your video at the best time to let the climate star in your show without hampering or slowing production. Hurricane season officially runs from June 1 through November 30 and can wreak havoc with a production schedule. Unless your project relies upon heavy and destructive winds, torrential rainfall, and record surf, you'd do well to avoid the peak hurricane season and to monitor weather reports if your shoot is scheduled for that time.
In-season vs Off-season
There are vast differences in accommodation rates, occupancy at hotels, and the ability to have your special needs met, as well as the density of tourists between peak and non-peak seasons. For a budget-friendly shoot, try to stay off-season. 
And one word of caution: Traffic! A 10-minute drive can easily morph into a one hor tangle. Plan for this in your scheduling. 
You may want to work with seasonal events like the Boat Parade, sports events, or other outdoor activities. There are many to choose from. 
Hot, hot, hot!
Florida can be excessively hot and humid, and daily showers in the afternoon are not uncommon during some times of the year. The temps can exceed 100 degrees! 
Provide protection against the weather.
Be sure to protect your cast, crew, and equipment against the sun, heat, and rain. Having your crew fatigued from the heat, or run for cover will be a costly delay and will knock you off your schedule. This should be part of pre-production planning. 
Consider the heat when choosing a wardrobe.
Loose, breathable fabrics, if appropriate for your video, will hold up better and be more comfortable. Bring plenty of water and keep everyone hydrated. 
Heads up! It can also get cool in the winter so plan accordingly. Great times to shoot are February and October. 
Make-up! 
If you are shooting from March through October, plan for a makeup artist on set. You'll probably need touch-ups and the wind can have a mind of its own. 
Shooting on the beach?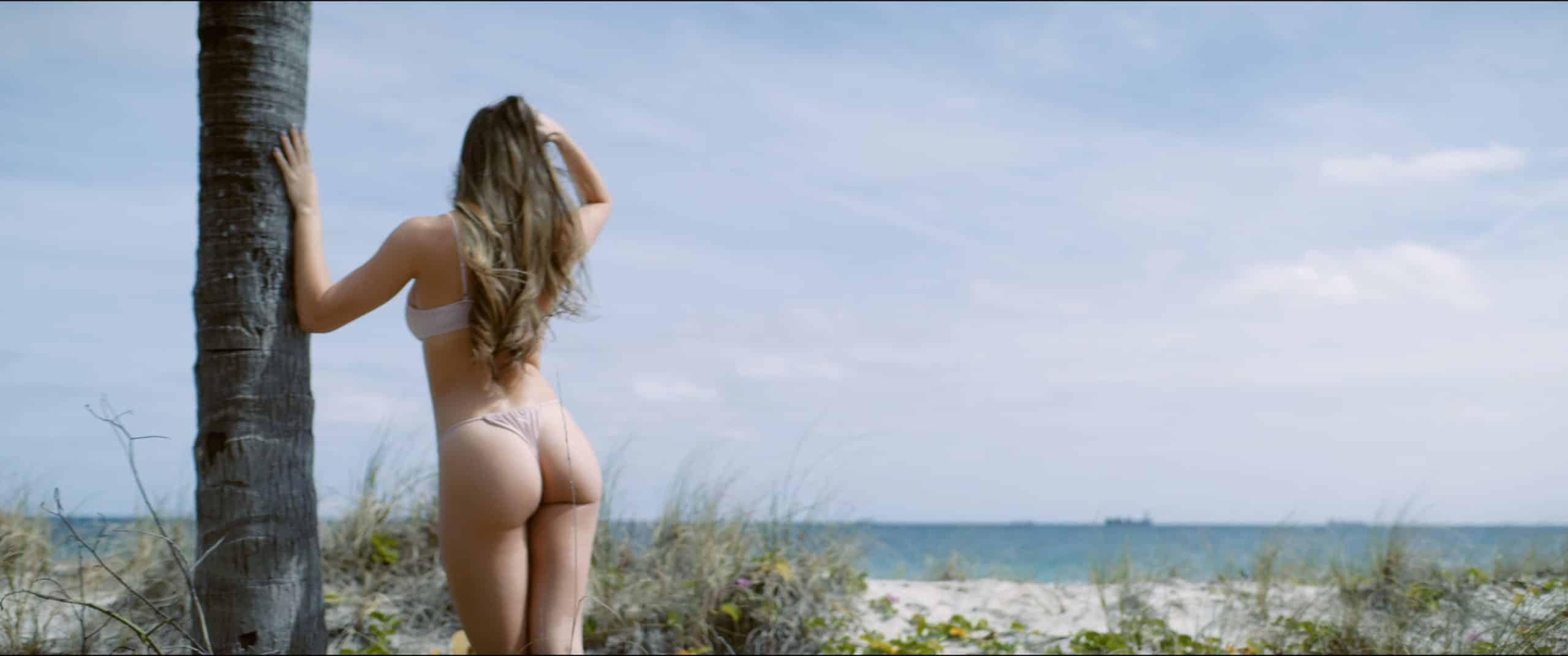 If you're shooting footage yourself, there are a couple of extra considerations for when you're shooting on the sand. 
It can be tough to get good clean audio. Waves, birds, and wind can all contribute to unnoticed messy audio. Beware!

The reflections from the sand and from the water, along with quickly changing lighting can all be challenging. Shoot and manage accordingly. 

The saltwater spray can be subtle. Beware build up on your lens and clean any lens often. 
Abiding by the law – The legal side of things
A good production company will handle all of this, but you should be aware of the legal requirements of shooting in Florida. Every location-based shoot for professional photography, even still, required a shooting permit. This permit confirms that the local city or federal government has given permission for the shoot. There are exceptions for a shoot with a handheld camera with a cast and crew of three or less, that does not impact the city, county, or state. Make sure this is included in your agreement and that they are in place. 
A certificate of insurance is also required. This is a $1,000,000 liability policy to ensure the county or city you are shooting in. Lastly, Florida is a "right to work" state which means union labor is not required in certain situations. 
Choosing a Florida video production company
When planning your Florida shoot, make sure your agency fully understands your goal and vision for your project. Ask about their crew, their studio, and equipment and view dome of their past projects. Ask for references.
And to optimize the Florida experience, be sure they have experience with shooting in Florida to ensure they have the contacts and connections to secure the best locations and talent for your project.