BLACK VIOLIN
Black Violin is a classically trained violin duo with a versatile musical range that blends hip-hop with triumphant instrumentals and lyrics.
Violinist Kevin Sylvester (Kev Marcus) and violist Wilner Baptiste (Wil B) use their talents to reach beyond the stage. Their art, music, and activism benefit young students across the U.S., advocating freedom of expression, pride, identity, and unity.
We first worked with Black Violin when collaborating with the Kennedy Center on their Turnaround Arts Program. Our perspectives on society and our vision for the future were similar and, ultimately, became the building blocks to our relationship. So, when Kev and Wil asked us to conceptualize and produce a few music videos for their new album Take the Stairs, we were all in!
"IMPOSSIBLE IS POSSIBLE"
"Impossible is Possible" is the second music video that we wrote, directed, and produced for Black Violin's new album Take The Stairs. 
When brainstorming this music video, we toyed around with a few concepts before writing this script and moving into production. Some of the other concepts are what you'd expect… there were the ideas in a concert hall with Wil, Kev, and a ballerina (overdone), the radical "no-care-in-the-world" concepts that you'd expect from Kanye and Jay-Z, and the uplifting wanderlust ideas of people living their out their best life. But none of these seemed right to us. No, we wanted to tell a real story — something that was genuine, true, and would fully capture the essence Black Violin's beautiful song.
The chorus, "show the world the impossible is possible" kept ringing in our minds. It stuck with us. It begged the question,  what is impossible… what's possible?
Now, this holds a lot of different meanings to a lot of different people. Naturally, what's achievable for some and hard to come by for others is decided early on, literally at the time of birth. Yes, the circumstances we are born into can surely dictate what we are capable of achieving. This idea of opportunity is what we gravitated towards and what we chose to articulate in this video.
It's an important theme and more relevant than ever. As the super rich continue to accumulate wealth and deepen the inequality gap that separates the haves from the have-nots, the opportunities afforded to everyday people will continue to shrink until even the slightest success seems like an impossible feat.
With this in mind, we told the  story of a young boy born into poverty, who pursues his dreams despite the odds and excels in life because of the beautiful support network he was blessed with. His mother and father sacrifice everything to provide him with a better life. And what's important is that he sees their sacrifices and turns this into success, He make the impossible possible; he changes his stars.
"ONE STEP"
'One Step' is the headline track for Black Violin's new album, Take The Stairs, which released November 1st, 2019. When we first listened to the single, we immediately felt a connection to the song and the message therein. We knew that we wanted to create a music video that was equally powerful. To do that, we had to stoke controversy and take a stance. Black Violin's song is an anthem. The video we produced together is a war cry.
The chorus chants 'one step to the future.' This had us questioning what that future looks like.
When we look at the state of America today, it's impossible to avoid scenes and stories of violence and oppression. Yet, despite these disturbing circumstances, most of us are able to ignore them and carry on with our lives. Society has tuned out. We've grown accustomed to seeing and consuming aggression on a daily basis. It has lost is affect. What were once conflicts that would inspire progressive action have become entertainment components wielded by the news media. This digression is being passed from one generation to the next. That is how we are stepping into the future. And we fear for our kids and their kids (should humanity even survive that long).
Understand that we, nor Black Violin, are making a political stance. We are spotlighting reality. That may disturb some people. It may anger others. But the truth is a hard pill to swallow, and that truth is that most people don't care to stand up against oppression anymore because they are complacent. And god forbid we risk our comfort. The world we live in today is not a safe place for our children. That is the message. If we are going to step into the future to create a brigher tomorrow then we must address these issues hurting us today. And in doing so, we must identify them and talk about them first. That is what this video is about.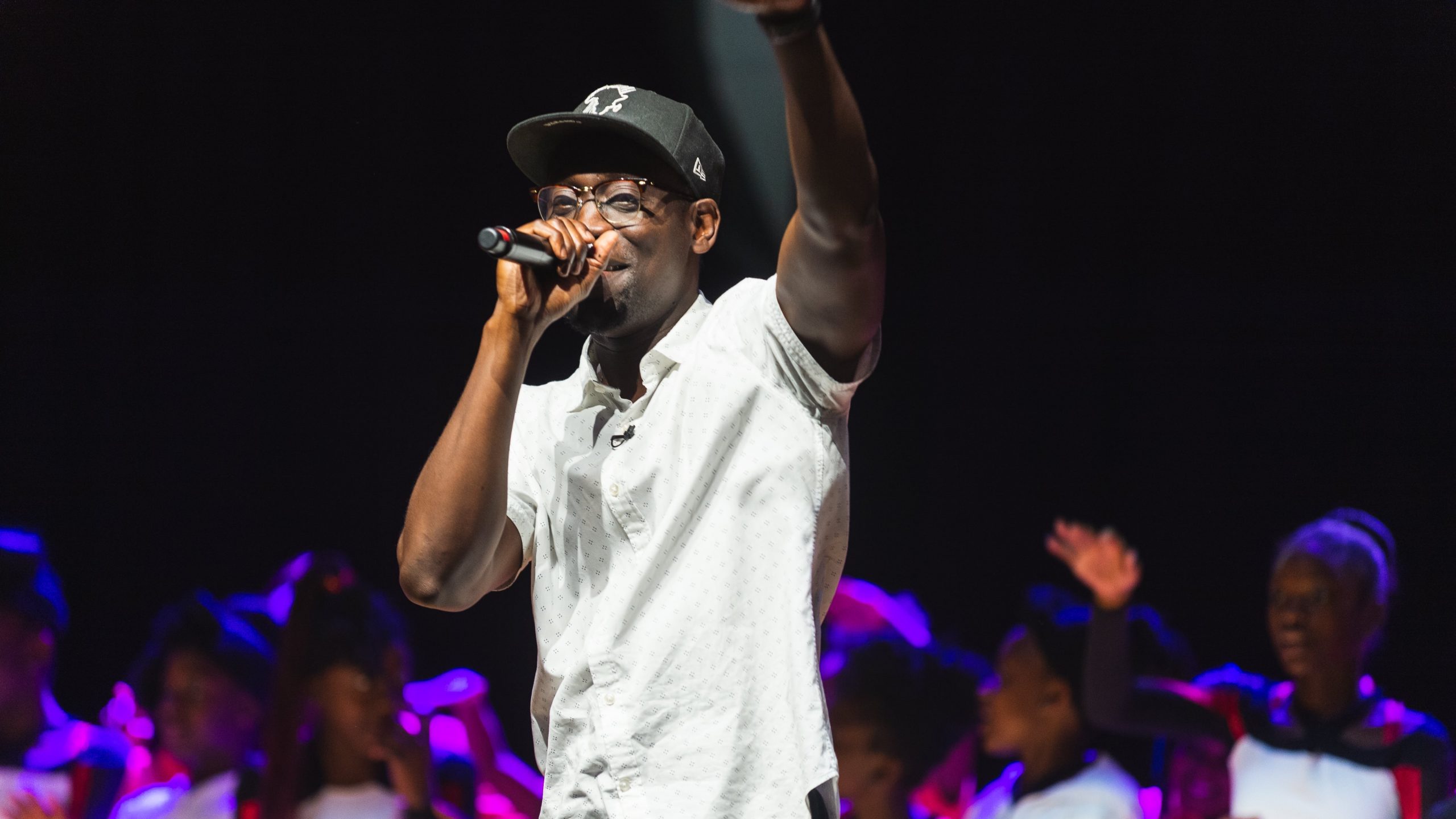 Kennedy Center
There was no way we could have captured the essence of this event with just still photos. The production needed to be emotional and cinematic in order for us to showcase the real impact Black Violin had at Walker Elementary.
The goal was to use emotional language and high-quality visual media to create an original video that captured the essence of the Turnaround Arts program.
Our production crew covered every aspect of the event. It was important for us to capture every aspect of Black Violin's involvement with the John F. Kennedy Center for the Performing Arts, and how they served as an inspiration to the students at Walker Elementary.
The visuals are an important part of our storytelling process. In order to show the whole story and bring out all aspects, we interviewed the organizers as well as Will and Kev. We also had individual conversations with them so that every part could be captured accurately. All the visuals came together in post-production. During the editing process, we added in the background dialogue and went back through the video in fine-detail to perfect every pixel in each frame. We took our time to make sure that all the visuals came together and that the overall story was clear and engaging. Our film editing services are meticulous, but worth it to create a high-quality finished product.
The Gear
Scouting locations for Black Violin's music video was quite the task.
We had less than two weeks to find talent and secure locations and permits in Los Angeles and Fort Lauderdale. One of the leading settings in "One Step" is the rooftop sequence featuring Will and Kev. They're overlooking downtown Los Angeles, using the rooftop as a platform to address the world. To make these scenes possible, we had to figure out a way to get a grand piano on a roof! As you can see, we got the job done.
The equipment we used (mainly when shooting on the rooftop) also made a great impact on the quality of the video. We used the Orion anamorphic lens for these scenes. Whereas some lenses flare red, the Orion lens flares blue, which really played to color palette we developed. Similarly, these blue sun flares add to the message communicated in the lyrics, adding a somewhat heavenly voice to the language.
Shooting with RED Digital Cameras
One of the best parts of working with RED Digital Cinema cameras is the quality of the frame grabs. No other camera in the industry can generate such crisp, flawless stills. One of our favorite cameras in our arsenal is the 8k RED Monstro VV. It's capable of pulling 8k stills at over 60 frames per second. These screen grabs are a result of RED's masterwork engineering.
Finetuning The Story
Check out Dailies 0056 for BTS of the production! 
We are a turnkey agency, in that we take each project from concept to delivery. Because of this, we house a full creative suite of editing and post-production software. One of our most powerful editing software, which we used to put the final touches on Black Violin's "One Step" music video, is DaVinci Resolve. This is the best color correction and non-linear video editing application for macOS by Blackmagic Design.
Since editing is one of the most critical steps in our process, nothing is overlooked. DaVinci Resolve helps us zone-in on key points of interest to create maximum clarity and outstanding color harmony. In this phase, we take all the footage, audio, and additional assets and lay them on a timeline to arrange the absolute best narrative flow. This process is extremely time-consuming. According to the industry standard, every minute of shooting translates to an hour of editing, which makes sense since this is where true storytelling comes together.
After editing, the project moves to color correction and audio mixing. This is where we balance the footage for proper exposure and grade the footage to give it a look that improves the overall story. Audio mixing is similar to video editing. While video editing pertains to video only, audio mixing has to take all of the audio sources and blend them to broadcast quality sound. All of this is done by our very strong and talented post-production team, who work around the clock to meet our client's deadlines.