Next Door
Next Door is a unique social frontier founded by the creatives at C&I Studios. Literally, next door to C&I Studios' Fort Lauderdale location, this bar is a haven for local artists, musicians, business professionals, influencers, and anyone who loves great art, intimate moments, and handmade cocktails. Throughout the month, the space hosts live bands, art shows, open mic nights, improv shows, and more. It is known locally as 'The Hidden Gem' of Fort Lauderdale, due to its speakeasy-esque atmosphere, private location, and word-of-mouth presence.
One of the most notable characteristics of Next Door is the attention to books and vintage furniture.  They are tangible links to the culture of the 20th century, which this space embodies to the fullest. All cocktails are named and modeled after the most notable American artists of the last century, such as Ernest Hemingway and Emily Dickens to name a few. A floor-to-ceiling bookshelf bar area and secret bookshelf door, behind which private events are often hosted, add to the atmosphere and virtually teleport guests to the heyday of American culture. The aging books also add a soft note of vanilla to the air, which increases cravings for premium bourbon, of which Next Door offers a grand selection.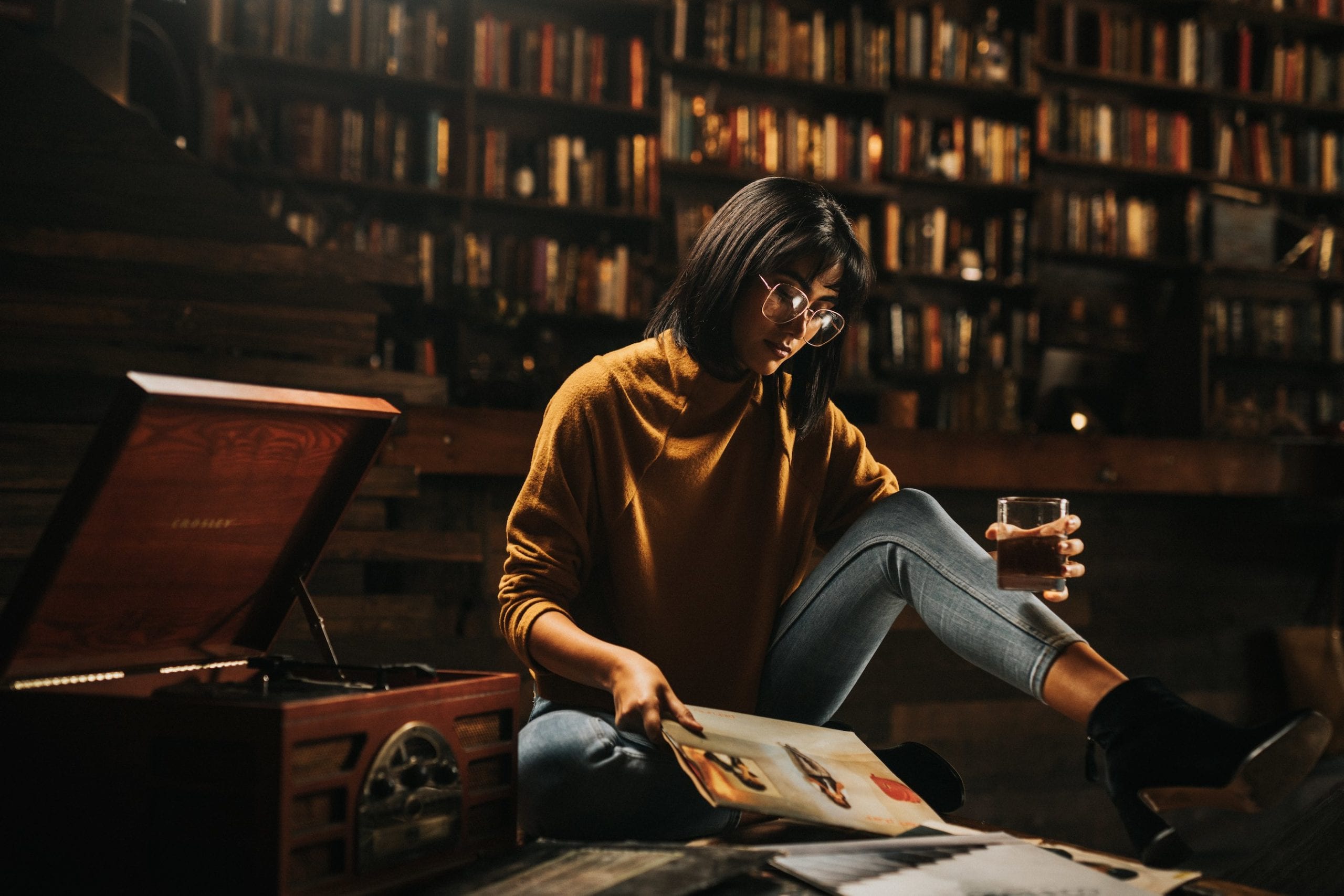 A Better Way To Sell Cocktails
Next Door is a nightlife concept from the minds at C&I Studios, so it is only natural that they use video to sell cocktails.
Video can articulate emotion more strongly than any other visual medium. Even with a soundtrack masking the sounds at the bar, one can hear ice clinking against the glass, they can smell the aroma of citrus and mint, they can feel the shaking of their cocktail before it is poured from the frosted shaker. Even though these sensory details are imagined, they are very real.
Video also ads a secondary visual cue to the aesthetic at Next Door. It brings the vintage environment of books into the present, essentially connecting the brand to their founding fathers in C&I Studios. Using video to sell also enables Next Door's versatility. They can promote rotating and promotional artisan cocktails without needing to redesign and reprint menus. These are also extremely valuable assets to use on social media and other digital promotions. Rather than relying on a flyer and spelling out a drink's ingredients, which is tacky and unattractive, they can show their audience what they're offering. And that brings people through the doors.
Next Door Rebranding
During the day, Next Door curates locally roasted coffees under the name Brew Urban Cafe. Though the appreciation for literature remains a notable characterstic during the day, the atmosphere is completely different from its after hours counterpart. Glass bay doors, often left open when the weather permits, floods the interior with natural light. The crowd is also drastically different from what Next Door attracts. Brew is often filled with an eclectic range of hispters, creatives, retirees, police officers, lawyers, out-of-towners and so on.
At night, when the bar Next Door comes to life, the setting reverses. Dim lighting perpetuates the mood. Soft music injects a romance. And the patrons who come to drink do so to embrace intimate moments; to relish in great art and deep conversation; to savor complex wines and unique cocktails; to escape the ordinary Fort Lauderdale bar scene. Next Door does not associate with other bars in the area. Instead, it caters to a crowd that goes at their own pace, who drink because they enjoy the flavors and aromas of handcrafted cocktails, and who like to reflect on their day in a setting that invokes deeper thoughts.
That is what this photoshoot seeks to capture. Not only did we want to excite the viewer with stunning photos of these two beautiful models, but we also wanted to show them who they can expect to run into on any given night. Rather than focus on cocktails and the bar area, we chose to excentuate the lifestyle aspect offered at Next Door. You see, there is a freedom of expression available at Next Door that is not afforded any place else. They allow their guests to immerse in the setting and the culture in the ways that speak to them most deeply. If they want to pull a book from the shelf or recommend a vinyl record to the bartendar, they may do so. If they want to shoot some awesome photographs for their blog or Instagram, then Next Door is their creative playground. If they want to invite their friends to a private event hidden behind the secret bookshelf door, all they have to do is ask.
The Neighborhood Hangout
As we mentioned above, during the day Next Door is a cafe. It is one of the most popular neighborhood hangouts in downtown Fort Lauderdale, having catering to the interests of creatives, business professionals, coffee enthusiasts and locals for nearly a decade.
The vibe is brighter and warmer during the day. It is a space that promotes creativity and neighborly connectivity. For these reasons, the media we use to promote the space (and daytime atmosphere) is different from our after hours aesthetic.
The branding for Next Door's daytime personality is playful and inviting. We like to show the people who enjoy our space, the baristas who help to make it so inviting, as well as the light fare and delicious coffee that attracts so many people.
Whereas the branding for Next Door at night is moody and appeals to one's curiosity, during the day it appeals to one's senses. You can smell the espresso wafting in the air. You can imagine the soft, buttery texture of our pastries. You can hear the pitter-patter of rain on the glass bay doors. You can sense that it is one of the rare places in Fort Lauderdale where people connect on a deeper level.