EDSA, Inc.
EDSA is a global planning, landscape architecture, themed entertainment design, and urban design firm. Their ability to unite people and place organically and functionally has inspired regional transformations that rank above some of the most sought-after destinations in the world. Founded in 1960 and headquartered in Fort Lauderdale, EDSA has since spread to major cities all across the world and continue to lead their industry with sustainable, holistically propelled concepts, techniques, and applications.
A Massive Branding Campaign
EDSA has a long-standing reputation as a beacon of progress, conscionable professionalism and innovation.
The leaders at EDSA came to us to repackage the legacy of their prestigious brand with a contemporary aesthetic. Our branding concepts were purposed to show how EDSA's thought leadership continues to motive designers across industries while inspiring thoughtful environmental awareness in people and communities worldwide.
The magnitude of EDSA's legacy demanded a full scale multimedia combination of photography, video production, graphic design, and web development. All of these services had to tell a single story. We had our work cut our for us.
A look inside the rebranding process.
EDSA is such a large, expansive brand that the fine details which make their company so unique can be smothered by what seems like a never-ending wave of media.Our mission was to create a stream of evergreen content that would serve EDSA's ongoing mission even as their business continues to grow and evolve. Rather than create photography that supports EDSA's story, we created photography that tells a more specific tale — that of the designer, the emotional stimuli in each design project, and the functionality of people and place. The biggest challenge was telling a single story through so many different human and landscape portraits.
Portraits of EDSA Principals
We focused on highlighting the small, important details. When photographing EDSA profiles we integrated the setting to fully capture the pioneering mentality of each designer and principal. We chose to showcase them in their natural habitat surrounded by the literature that inspires their work.
This storytelling mechanic demanded that we take the time to learn about their passions and their motivation. Getting to know each subject added a lot of value to each photograph. It allowed our photographers to empathize with their creativity and their passions, which positively reflected in the quality of each headshot. Every photoshoot began with a 5-minute conversation, and from there we were able to truly highlight the personality of each EDSA principal.
Visual Narratives Drives EDSA's Story
Producing a consistent and effective narrative that would highlight the magnitude of the EDSA brand was a huge task.
Our video production strategy needed to show how EDSA's many successes birthed such a deeply ingrained company culture — one that has elevated continuously over the last 100 years. Not only did we have to identify the key elements that make their brand so unique, but we also had to translate those values to external audiences as well as long-standing EDSA employees.
Moreover, the various stories we were telling needed to connect into a grand, wholesome narrative. The biggest challenge here was capturing the fire and energy of a brand that has dominated the market for the past 100 years in a 2-minute video.
Inside The Design Studio
When filming EDSA's video profiles it was essential that we take audience preferences into consideration.
Our content needed to be eye-catching and motivational — a conduit of inspiration to students and industry professionals alike. Simultaneously, the style and language needed to remain consistent with EDSA's professionalism. That was our recipe for delivering powerful content and producing effective results regardless of the viewer.
To external audiences, EDSA is a pioneering force shaping humanity's connection to time and place through amazing design concepts. To the internal audience — the EDSA employee and principal — EDSA is a lifestyle. In that, their brand exceeds their industry. EDSA represents more than just landscape architecture. Our video series weaved in these important brand elements, ultimately appealing to various audiences without segregating or alienating any of our readers.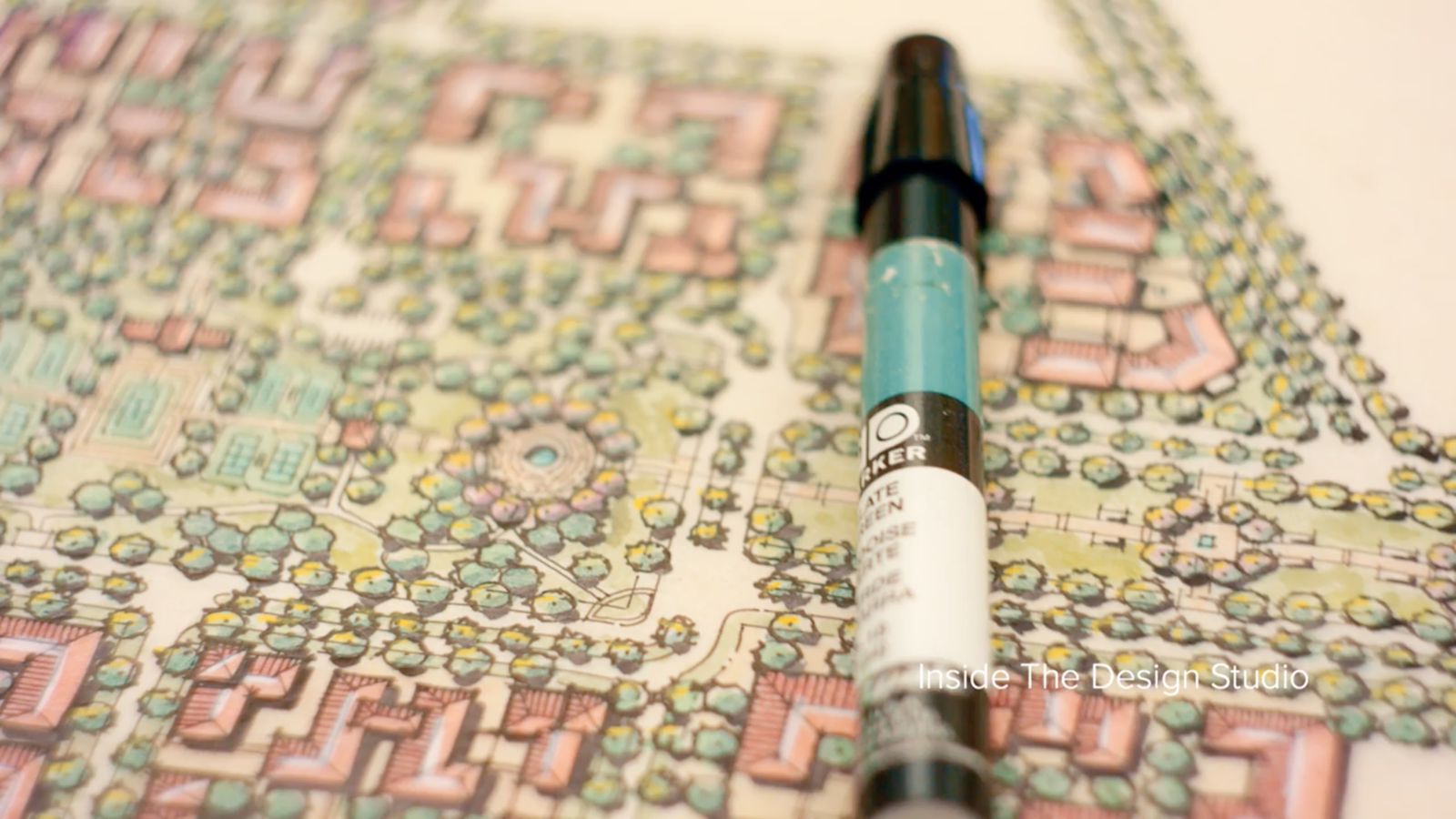 With so many offices in so many major cities across the world, the EDSA website needed to inform audiences on their far-reaching global presence. Their longstanding history provided a library of content which was both restricting and liberating. Though there was no shortage of media there were limitations on what webpages they could live on and how we could connect all these areas of focus seamlessly. Segmenting EDSA principles concerning planning, landscape architecture, and urban design while showing how these practices come together to facilitate each project was crucial in establishing the professional nature and magnitude of EDSA's global mission.