How To Elevate Your Brand's Presence & Raise Your Bottom Line
The Importance Of Content Marketing.
Brands don't just need content. They need good content. This is becoming increasingly important as more and more businesses utilize the internet and social media as their primary outlets of Business-to-Business (B2B) and Business-to-Consumer (B2C) marketing.
The big question all brands have to ask themselves is, "what content will my audience respond to?" This all comes down to knowing who your audience is, what they value, and what they expect to gain by interacting with your brand.
Don't underestimate that phrase "expect to gain." There is so much information and beautiful content at consumers' disposal that if your brand is not regularly delivering value to your audience, they will quickly forget about your brand and turn to your competitors. This is what separates good content from the bad. Bad content will push your audience away. Good content will encourage them to regularly engage with your company. Both can have serious long-term effects on your success.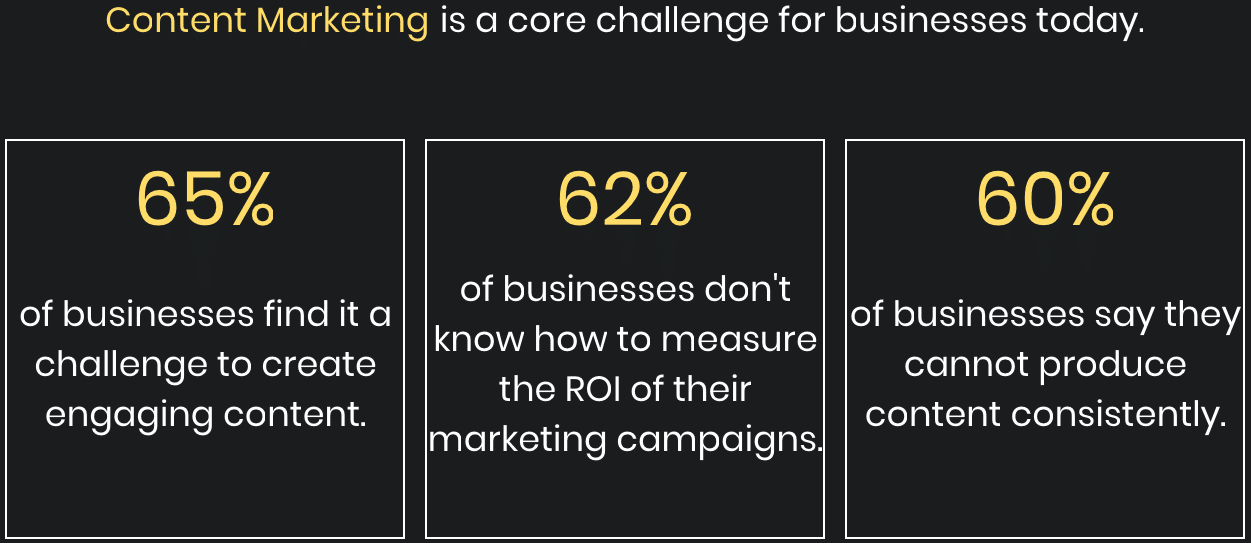 This methodology involves bringing audiences and consumers face-to-face with your business without actively pushing a sale. This tactic relies heavily upon social media, blogging, email marketing, search engine optimization (SEO), and content creation.
Inbound marketing is essential for any business that wants to actively attract users and remain relevant and searchable on search engines. If you are skipping this step in your marketing campaign then you are greatly devaluing your potential.
With 53% of marketers claiming blogging is one of their top sources of content creation and 66% saying that they use blogging in their social media strategy, it is hard to dismiss the necessity of inbound marketing. Photography is a core element of successful content creation for inbound marketing efforts (and outbound but we will get to that shortly).
The primary tactics for inbound marketing all rely on a diverse menu of creative content.
Without images (and good ones), video production (that properly tells your story), and graphic design (that provides actionable info at first glance) you undermine results. For instance, blog articles with images get on average 94% more views than blogs without images. Combine this with the fact that marketers who prioritize blogging are on average thirteen times more likely to receive a return on investment (ROI) for their efforts, and it is clear why businesses using inbound marketing are more successful and dedicated to delivering quality content.
This holds true regardless of your industry. If you are neglecting photography and video production as a primary marketing tool or degrading your assets by relying on amateur content marketers then you are hurting sales.
A few examples of inbound marketing.
This includes cold calls, trade shows, seminars, etc. Pretty much any outbound effort to reach more consumers. The problem with this is that audiences react to outbound marketing negatively nowadays, especially millennials and the generations that follow. The in-your-face tactic is outdated. However, it still has value. If you engage in outbound marketing efforts then professional photography is vital. It shows consumers what your business represents, that you are legitimate and that you understand who you want to communicate with.
For instance, if you set up a booth at a trade show and had no visuals to aid your presentation, then people would pass you by without a second glance. If you implement quality photography, however, not only will you capture attention more easily but you immediately articulate your brand's presence and focus without having to have a conversation to do so. The more creative, crisp and streamlined the photography, the greater the appeal to audiences who have no prior knowledge of your business.
If you engage in inbound or outbound marketing here are 5 reasons why investing in quality media will produce the results your business needs to succeed.
1. First Impressions Matter
Media represents your business and it is often the first form of contact consumers have with your brand. Professional photography, video production, and graphic design is the best way to ensure that the first impression leads to continued interactions.
We know the price of these services can be daunting. This can encourage a business owner to create their own content as a means to cut expenditures. Without knowing the tools of the trade and consumer trends, however, the results are typically low-quality or poorly curated — both of which will negatively impact that initial impression. Sure you may be saving a few dollars here and there by shooting on your iPhone versus hiring a professional. But that is a gamble. In the end, you may alienate customers rather than attract new, loyal ones which will undoubtedly impact your bottom line negatively.
It essentially comes down to status. Do you want your brand to look and feel professional — like you know what you are doing? Or do you risk branding your business with an elementary, inexperienced reputation?
2. Show Don't Tell
A picture allows a brand to show consumers what they offer without having to start a conversation to explain it to them. When a consumer is able to draw their own conclusions about a product or service they will be more inclined to take action, whether that results in a sale or a lead.
But consumers aren't drawing their own conclusion, are they? They just think they are because no one told them what to see or think. In truth, however, a professional photographer knows how to guide the consumer's eye — to lead viewers to see what should be seen; to feel what needs to be felt, and to recognize value without having to be instructed.
This is considerably valuable when photographing the lifestyle you are marketing and the products you are selling. Show consumers the best aspects of both, which just so happens to be the aspects they value most (because you did your research), and you will generate more sales and expand your brand to greater audiences.
3. The People Behind The Business
Okay, so you have decided that risking your brand's reputation on low-quality media you created yourself is not worth it. But you're still not ready to hire a professional. What do you do? You shop around for stock photography or cheap video services. In truth, this may be more detrimental to your brand's reputation than if you would have shot your own photos. You see, consumers, regardless of your industry, want to get to know the people running the business. Stock media is a shade preventing that relationship from developing any further.
Remember how we talked about the necessity of inbound marketing? Well, the tactic is all built on trust. In fact, that is what a lot of successful marketing campaigns rely on today. Loyalty is essential for growth. The more loyal consumers your business has the more new customers will migrate to your brand. This will generate more sales and more leads. If you are a business owner, chances are you did not start a business to run it for a few years then call it quits or file for bankruptcy. No, you started a business because that is what you want your career to be. So, you have to look long term. The best way to stay in the game is to start building a loyal audience base that knows who you are and what you stand for and assimilates with those characteristics. Professional photography and video production are the perfect gateways to getting that done.
4. Versatility
Photos, video, and graphic design impact every facet of a brand's well-being. This type of media used to support blog content, to engage users on social media, to market products on Amazon, to sell a lifestyle, to make a website more engaging, to stimulate email marketing, and on and on. Because this menu of media is so versatile the same content can be repurposed for various applications. When you spend money on professional services like these you are actually investing in a database of quality content that can be used time and again. We have all heard the expression "Content is King." Don't you want yours to reign supreme?
5. Get Found On The Web
Organic search is becoming the most popular way for consumers to find business. This outranks both paid search and social media. Relevancy on search engines is what gives your brand authority. Google, for instance, wants to give its users easy access to the best, most relevant information. To do that, they grade hundreds of millions of web pages based on a very specific set of criteria:
Relevancy
Load time
Bounce rate
Word Count
Session Duration
Links
Shares
Quality of content
Keyword Phrases
And more
The easier your business can be found through organic search — the higher your website ranks on Google, for instance — is directly associated with your brand's authority. This is a very meaningful factor for both consumers and businesses who may be considering interacting with your brand. The higher your page ranks — the more authority you have on the subject — the greater the chances that users will come to you.
This is where SEO comes into play. Unique images that are only applicable to your business (so, not stock photos) will help your website rank higher on search engines. There are many elements to SEO, and images are a key component. Images can be meta-tagged with relevant information that helps Google translate their value and rank the page they live on accordingly. To Google, images are added information on the subject. Use the right ones and Google will reward you with higher rankings on their search engine.
Our content marketers are ready to help you capitalize on all of your business goals.
Whether your business is new or established, our team of content marketers is at your disposal. We are equipped to strategize, conceptualize and deliver on a repertoire of photography, video, graphic design, and more that will effectively support a wide range of inbound and outbound marketing initiatives.
The clients we have worked with span a spectrum of industries and
markets, interact with diverse populations of consumers and have seen proven results through the work we have provided.
If you want to stimulate your growth or perhaps tap into a new audience segment then shoot us an email. A successful relationship should always begin with a good conversation.